Update: March 10, 2013
We received the new Dinotte XML-3 with the upgraded LEDs for 2013. The output has increased from 1054 lumens to 1550. The price has gone down too from $259 to $229. Bravo to one of the best light companies in the business.
Update: Dec. 31
We've produced three charts with the help of our forum member 'skullcap'.  These charts will help you decipher all the light information to find the right light for you.
The second graph shows you Lumens per dollar and Lumens per gram. The taller blue bars show you lights that give you more light output for the money. The taller red bars show you lights that give you more light for the weight.
This first graph shows you Claimed Lumens vs. Measure Lumens. Since there is no regulation with brightness claims in the bike light industry, anybody can claim outrageous brightness claims for their light. You may think you're getting more light for your money but it is often not true. This chart puts the red bar (claimed) against the blue bar (measured) to see which products have equal bars to indicate that they are truthful with their claims.
The 2013 Bike Lights Shootout is here! The batteries are charged and the lux meter and lumisphere are ready. We've been riding these lights for the last few weeks and the progress in LED technology is dramatic once again.
Four sections of this test are:
1. Backyard Beam Pattern Shots and Tunnel Beam Pattern Shots.
2. Integrating Sphere Lumen Measurements.
3. Ambient Lux Meter Measurements.
4. Individual Reviews Below
Visit our 2012 Bike Lights Shootout.
Lumen measuring process using an integrating sphere with Chris McCaslin.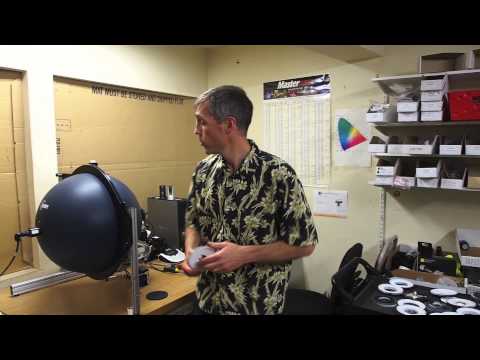 Related Links
All Mtbr Lights Shootout Articles »
2013 Bike Lights Shootout »
2013 Backyard Beam Pattern Comparisons »
2013 Tunnel Beam Pattern Comparisons »
2013 Mtbr Lux measurements »
2013 Mtbr Lumen Tests »
2012 Bike Lights Shootout »
Mtbr Lights Reviews »
Mtbr Lights Forum »
(Visited 111,477 times, 73 visits today)