Update: Feb 23, 2015
On June of 2014, the first two segments (of six) of the Demo Flow Trail opened to the public. The flow wasn't quite there yet as the two segments, segment Three and Five were disconnected from each other and were in the middle of a big hill. There was no easy way to access these two segments and one ended up riding quite a bit of fire road up and down to try out these new trails. There was excitement but a hint of doubt as well as a lot of time, labor and money were spent developing these two parts. It was mid-summer too of a dry year so the soil conditions weren't quite dialed to showcase the trail. Many riders checked it out a couple of times but it did not become a staple on most riders' weekend routes.
Fast forward a few months and rumblings from trail workers this winter started circulating about the great progress and quality of the subsequent segment builds, sections One and Two. Bouts of heavy rain and long, dry periods allowed good progress to be made on the build. In addition, the trail builders were learning as they went along and the lessons of the first two segments allowed a more efficient and better build. Feb. 20 of 2015 rolled around and the the builders felt it was ready to 'soft-launch' the new sections. Mtbr went out there on Sunday Feb. 22 and we were absolutely floored by the quality of the trail.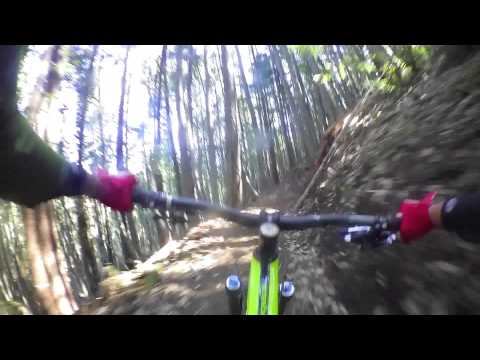 Check our first run on sections 1,2,3 of the Demo Flow Trail.
We were blessed of course with 'hero dirt' conditions but we were still stunned by the quality of this trail. There was minimal pedaling but plenty of opportunity to gain speed by pumping terrain and maintaining speed through corners and rollers. Berms were impeccably built and the trail was predictable yet exhilarating. There was quite a bit of opportunity to catch air as well as jump lines were incorporated well in the trail. One of the shocking attributes of these sections of the trail is the length. The video above is purposely unedited to show that it is about a nine-minute run at a good clip. And every second rewards the rider with pump track elements, corners, rollers and jumps. There are no dead spots in this run it demand's the rider's full attention. "If this is only half the trail, I don't think we are ready for the full serving." remarked one rider.
Mark Davidson of MBOSC explains, "The trail was designed with progression in mind as segment One meanders with the flatter terrain and gets the rider loosened up and ready for what's to come. There's no big jumps and the berms are not too high. Segment Two then starts ramping it up as terrain gets steeper and the berms pick up in size. And then segment Three gets rowdier with faster speeds and more creative lines." And then Mark's eyes really light up as he talks about what's to come in the next segments. "They'll get more aggressive and we'll have the opportunity to build a skills area.
But money and volunteer effort are needed to complete this project. Check here to learn how to donate funds and/or help build the trail. http://www.mbosc.org/current-projects/4-mile-flow-trail-at-demo/
By: Don Palermini – June 2, 2014
Big smiles accompanied the whoops and hollers as riders in the San Francisco Bay Area took their first turns riding two sections of the new flow trail that official opened in the Soquel Demonstration State Forest near Santa Cruz, Calif. Sunday. Segments three and five of the new six section trail are now open for riding and can be accessed from Tractor Road, the fire road that will serve as the flow trail's backbone when it is complete sometime in 2015, according to estimates.
Although most of the trail is dirt, there are a couple bridges made from very local materials—like Santa Cruz Mountains redwood. Photo: Bogdan Marian
The two open sections got rave reviews from riders who applauded the trail's roller coaster-like flow and progressive nature. Because the trail is designed to be entirely rollable, its appropriate for beginners, as well as more advanced riders who can catch air and rail bermed corners.
CalFire's Angela Bernheisel (left) and trail builder Drew Perkins use the ceremonial loppers to cut the ribbon on the Demo Flow Trail. Photo: Bogdan Marian
The trail opening was marked by a short ceremony and ribbon cutting at the bottom of section five. Head builder Drew Perkins gave a status update, thanked volunteers and praised the cooperative atmosphere that helped get the project underway.
A casual survey of attendee photographs would indicate approval for the new trail. Photo: Bogdan Marian
Soquel Demo Forest Manager Angela Bernheisel lauded the volunteer efforts of the trail's primary advocate groups, the Mountain Bikers of Santa Cruz and the Stewards of Soquel Forest. She also explained the forest's role in terms of timber management, fire suppression and recreation—three interests that work in harmony at Demo.
Handsome segment sponsor signs adorn the start of each of the newly opened trail spurs—FOX for segment three, and Epicenter Cycling for segment five. Photo: Bogdan Marian
Trail building has been suspended for the year as lack of rain and low moisture levels have made the ground difficult to work with as well as elevated wildfire danger. The Santa Cruz Mountains historically average about 50 inches of rain annually but are coming off the driest winter on record that saw the forest get half that amount and only four inches since the beginning of March. The pause in building will, however, let trail officials monitor trail wear and traffic, and make adjustments on future designs.
Other segment sponsors include Ibis Bicycles, Bontranger, Specialized and Trail Head Cyclery. Jeff and Marieke Rothschild, Shimano, Easton and X-Fusion all made donations to the project, while Mtbr, Santa Cruz Bicycles, Mick's Automotive and the Stewards of Soquel Forest each sponsored work days.
Keep it tuned to Mtbr for an update on the project and when work days will resume.