Best Mountain Bikes Under $1000
Updated on 4/16/2020
While not overly sexy (or light), there are plenty of quality entry-level mountain bikes that sell for around $1,000. These are great options for beginner mountain bikers and young riders who may soon outgrow their current bike. Keep reading to learn what to look for in your first mountain bike and check out our list of the best mountain bikes under $1000 (or close to it).
Are you a new mountain biker? Learn more in our Beginner's Corner. 
---
What to know before buying your first mountain bike
But before you head out to your nearest bike shop or online bike seller, there are a few things to keep in mind when shopping for the best mountain bikes under $1,000. For starters, no matter what bike you buy or how much it costs, make sure it fits you well. Because if a bike fits, it's going to be a whole lot more fun to ride and will be less likely to end up collecting dust in the back of your garage. And while pro-level bike fits are pricey, any decent local bike shop should be willing to help get your position dialed, adjusting saddle height and swapping stem to get you the best fit.
The second thing you should know when searching for the best mountain bikes under $1,000 is that you are going to want to opt for a hardtail. Sure, there are some budget-priced full suspension options out there, but unless you happen to catch a super sale, the odds are that at this price point, you're going to get a bike with inferior components that may not work very well or last very long. That's why we suggest you stick with a hardtail and make the jump to a full-suspension down the road when you have a little more budget to work worth.
The other big advantage of choosing a hardtail, especially for beginners, is that they can help you become a better rider because they force you to develop your skills and make better line choices instead of just being a passenger and plowing through things. And once you've mastered the basics (and saved a little more money), your second bike can be a full-suspension model.
The other option, if you really want a full suspension bike but only have $1,000 to spend, is to shop the used bike market. Online re-sellers such as The Pro's Closet have a massive inventory of bikes, but you'll need to keep an eye on their ever-changing inventory and hope the right bike in the right size turns up. Craigslist, eBay, and the various bike website forums are other good places to peruse. Just make sure you know exactly what you're getting before you transfer your hard-earned money.
As for buying new, aside from fit, if possible, opt for a bike that's spec'd with parts from respected component brands such as Shimano, SRAM, Fox, and RockShox. All these companies make a wide range of products, meaning that their lower-priced options typically benefit from trickle-down technology. They also have reputations to uphold, so it's unlikely that they'll put out parts that are going to fall apart in a few months.
Now that you have some basics shopping strategies, here are the best mountain bikes under $1,000 (or very close to it) listed from most affordable to most expensive.
---
Best mountain bikes under $1,000 in 2020
Schwinn Axum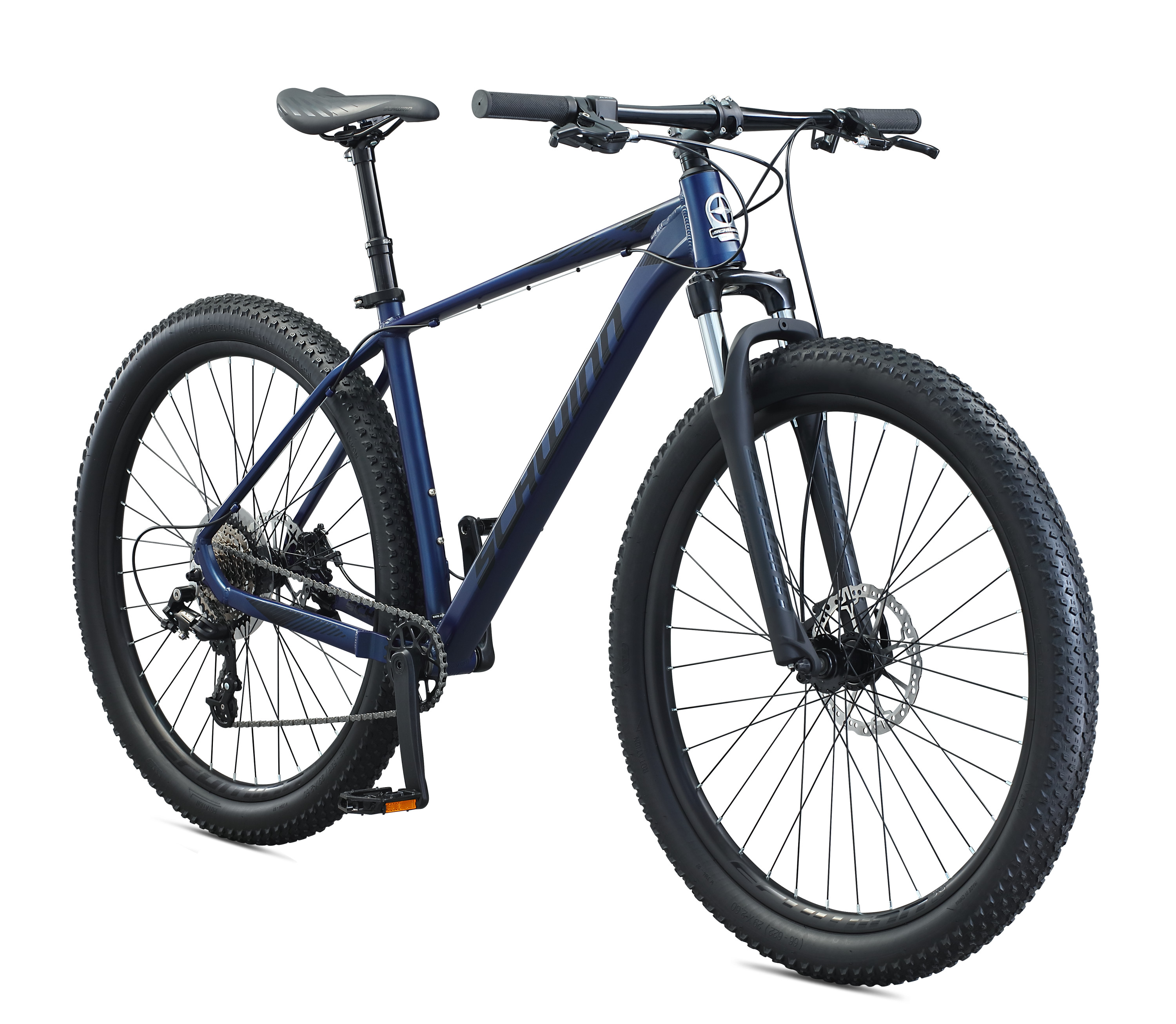 Take on new trail challenges with the Axum mountain bike by Schwinn. This mountain bike is the lowest-price on our list. It's a suitable entry-point to cross-country riding for riders new to the sport. The Axum features a light aluminum frame and a 100mm suspension fork. It has a 1×8-speed drivetrain and front and rear mechanical disc brakes to deliver reliable stopping power. Plus, the Axum rolls on high-volume 29×2.6 tires that make it easy to roll over just about anything. It's available with or without a dropper seatpost—our advice is to upgrade to the dropper-post equipped version.
Related Reading: Click here to for our full review of this bargain-priced mountain bike. 
Price: $398-$498 (with dropper seatpost)
---
Diamondback Hook
The Diamondback Hook is equipped with the same low-slung, modern frame as its more expensive Line and Sync'r siblings. Long in the front, short in the back, low and maneuverable, the Hook is deft and precise on tight trails yet rock-steady when you are going full speed down the steepest descents. A 120mm SR Suntour fork soaks up the chunder while a SRAM X3 1×8-speed drivetrain keeps you spinning up and down the hills. With 27.5-inch wheels for maneuverability, the Hook makes a great trail bike, always ready for quick rips on your local trails and all-day suffer fests.
Price: $700
---
Marin Bobcat Trail 5 – 29″
The Bobcat Trail family crosses boundaries between Trail and Sport mountain bikes. The Bobcat Trail 5 is designed for the hardtail enthusiast looking for a full-featured trail mountain bike that doesn't break the bank. Long, low, and slack trail geometry coupled with a 120mm suspension fork, a lightweight Series 2 aluminum frame, and the wide-range 1×11 drivetrain make the Bobcat Trail the complete mountain bike package capable of tackling real singletrack. The Bobcat's 29-inch wheels offer great roll-over performance giving you a smooth ride no matter how rough the trail gets.
Price: $849.99
---
Fezzari Wasatch Peak Comp 29
Utah-based direct-to-consumer bike seller Fezzari offers some of the best deals around, and the Wasatch Peak Comp 29″ is no exception. For under a grand, you get a trail-ready rig that can run either 29″ or 27.5+" wheels, spec'd a Shimano Deore 1×10 wide-range drivetrain with 30t chainring and 11-42 cassette, 120mm SR Suntour XCR34 Fork, Shimano hydraulic disc brakes, WTB tubeless-ready wheels, and tubeless-ready 2.25 Maxxis Ardent tires. Pair all that with a capable Fezzari Racing Design F275A alloy frame and you have a 29″ hardtail that's up for anything. No wonder the Wasatch Peak is one of Fezzari's most popular cross country bikes.
Price: $999
---
Kona Blast
From a brand known for their progressive hardtails, another solid all-arounder 27.5′ hardtail, the Kona Blast offers superb climbing gear range thanks to its pairing of 28t FSA Alpha Drive chainring/cranks with an 11-42 Shimano Deore 10-speed cassette. Up front suspension is the capable 100mm RockShock Silver. Brakes are the ever-reliable Shimano hydraulic disc, that smartly include an 180mm front rotor for max modulation and stopping power. It all spins on a set of WTB ST i29 TCS wheels shod with WTB 27.5×2.25 tires. And we absolutely love the matte desert tan frame color with charcoal and brick decals. This is a truly great looking bike.
Price: $999
---
Cannondale Trail 5
With a 68.5-degree headtube angle in 29er form (or 68 even for 27.5), the Cannondale Trail 4 strikes a nice balance between sharp steering and stability in the rough stuff. That means you could race the local XC race one day, and rip your backyard trails the next.Cannondale offers the smallest sizes with 27.5-inch wheels and the medium and larger versions with 29-inch wheels to fit a wide range of riders. Spec highlights include tubeless WTB wheels and tires, a 100mm RockShox XC30 suspension fork, and Shimano and Sunrace 1×10-speed drivetrain, and Shimano hydraulic disc brakes. It also comes in six total sizes: XS, S, (27.5-inch wheels), and M, L, XL, XXL (29-inch wheels).
Price: $1,000
---
Trek Roscoe 6
Trek bills the Roscoe 6 as "the ideal gateway to mountain biking for new riders looking to have a fun time on the trail". The 27.5+" hardtail features a stout aluminum frame with internal cable routing has a lightweight, 120mm SR Suntour XCM32 fork, Schwalbe Rocket Ron 27.5×2.8 tires, 1×10 Shimano Deore drivetrain, and Tektro HD-M275 hydraulic disc brakes. There's even compatibility to install an internally-routed dropper post if you want to up to the bike's rowdy factor a touch.
Price: $1,019
---
Salsa Rangefinder Deore 29
The Rangfinder is just over our $1,000 limit, but the spec is so good that we decided to include it. Plus, if you're an REI member, you might be able to use your annual dividend payment to bring the price well below $1,000. Salsa's Rangefinder has modern geometry that combines a long top tube, short stem, and 439mm chainstays to provide a stable ride and keep you in control on steep and technical terrain. It offer multiple mounts for water bottles and cargo carriers, making it a great option for dipping your toes into the world of bikepacking. It features a 120mm Suntour suspension fork, a 1×10 Shimano drivetrain with Shimano hydraulic disc brakes. Unlike many bikes in this price range, the Rangefinder includes a dropper seatpost as well.
Price: $1,049
---
Mtbr is committed to finding, researching, and recommending the best products. We earn commissions from purchases you make using the retail links in our product reviews. Learn more about how this works.
---