The Best Mountain Bikes Under 1000 Dollars
Updated on 8/12/2020 with the best options currently available 
They may not be the lightest or come equipped with the latest high-end gear, but there are plenty of quality entry-level mountain bikes that sell for around $1,000. These are great options for beginner mountain bikers and young riders who may soon outgrow their current bike. Keep reading to learn what to look for in your first mountain bike and check out our list of the best mountain bikes under 1000 dollars (or close to it).
Are you a new mountain biker? Learn more in our Beginner's Corner. 
---
What to know before buying your first mountain bike
But before you head out to your nearest bike shop or online bike seller, there are a few things to keep in mind when shopping for the best mountain bikes under $1,000. For starters, no matter what bike you buy or how much it costs, make sure it fits you well. Because if a bike fits, it's going to be a whole lot more fun to ride and will be less likely to end up collecting dust in the back of your garage. And while pro-level bike fits are pricey, any decent local bike shop should be willing to help get your position dialed, adjusting saddle height and swapping stem to get you the best fit.
Related: 5 things you need to know when buying your first mountain bike
The second thing you should know when searching for the best mountain bikes under $1,000 is that you are going to want to opt for a hardtail. Sure, there are some budget-priced full suspension options out there, but unless you happen to catch a super sale, the odds are that at this price point, you're going to get a bike with inferior components that may not work very well or last very long. That's why we suggest you stick with a hardtail and make the jump to a full-suspension down the road when you have a little more budget to work worth.
At this price point, hardtails are the best choice for their lightweight and efficiency. The other big advantage of choosing a hardtail, especially for beginners, is that they can help you become a better rider because they force you to develop your skills and make better line choices instead of just being a passenger and plowing through things. And once you've mastered the basics (and saved a little more money), your second bike can be a full-suspension model.
Related: 5 Best MTB Upgrades
The other option, if you really want a full suspension bike but only have $1,000 to spend, is to shop the used bike market. Online re-sellers such as The Pro's Closet have a massive inventory of bikes, but you'll need to keep an eye on their ever-changing inventory and hope the right bike in the right size turns up. Craigslist, eBay, and the various bike website forums are other good places to peruse. Just make sure you know exactly what you're getting before you transfer your hard-earned money.
Related: 5 tips for buying a used bike
As for buying new, aside from fit, if possible, opt for a bike that's spec'd with parts from respected component brands such as Shimano, SRAM, Fox, and RockShox. All these companies make a wide range of products, meaning that their lower-priced options typically benefit from trickle-down technology. They also have reputations to uphold, so it's unlikely that they'll put out parts that are going to fall apart in a few months.
Now that you have some basics shopping strategies, here are the best mountain bikes under $1,000 (or reasonably close to it) listed from most affordable to most expensive.
---
Best mountain bikes under 1000 dollars in 2020
Schwinn Axum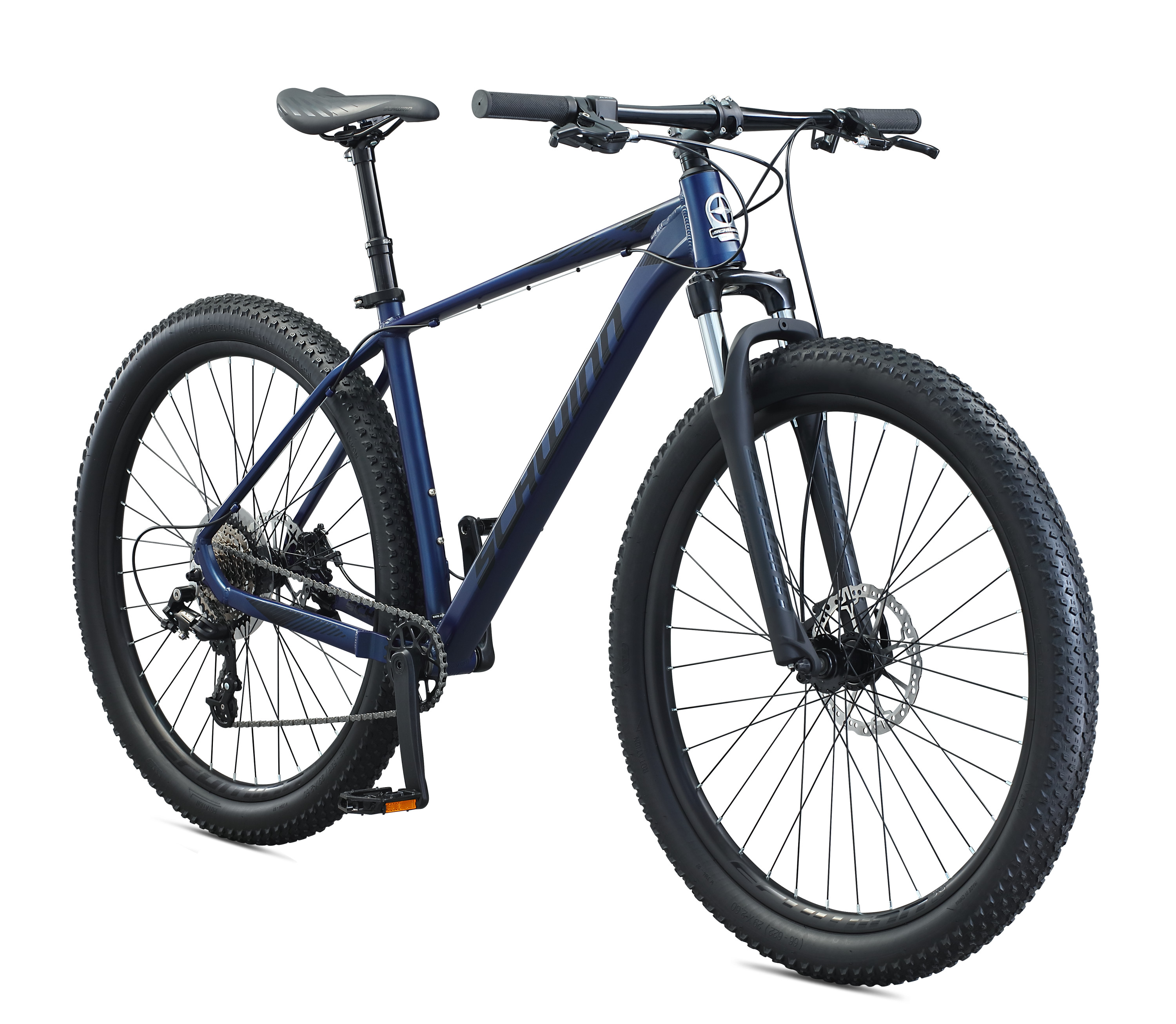 Take on new trail challenges with the Axum mountain bike by Schwinn. This mountain bike is the lowest-price on our list. It's a suitable entry-point to cross-country riding for riders new to the sport. The Axum features a light aluminum frame and a 100mm suspension fork. It has a 1×8-speed drivetrain and front and rear mechanical disc brakes to deliver reliable stopping power. Plus, the Axum rolls on high-volume 29×2.6 tires that make it easy to roll over just about anything. It's available with or without a dropper seatpost—our advice is to upgrade to the dropper-post equipped version.
Related Reading: Click here to for our full review of this bargain-priced mountain bike. 
Price: $398-$498 (with dropper seatpost)
---
Cannondale Trail 8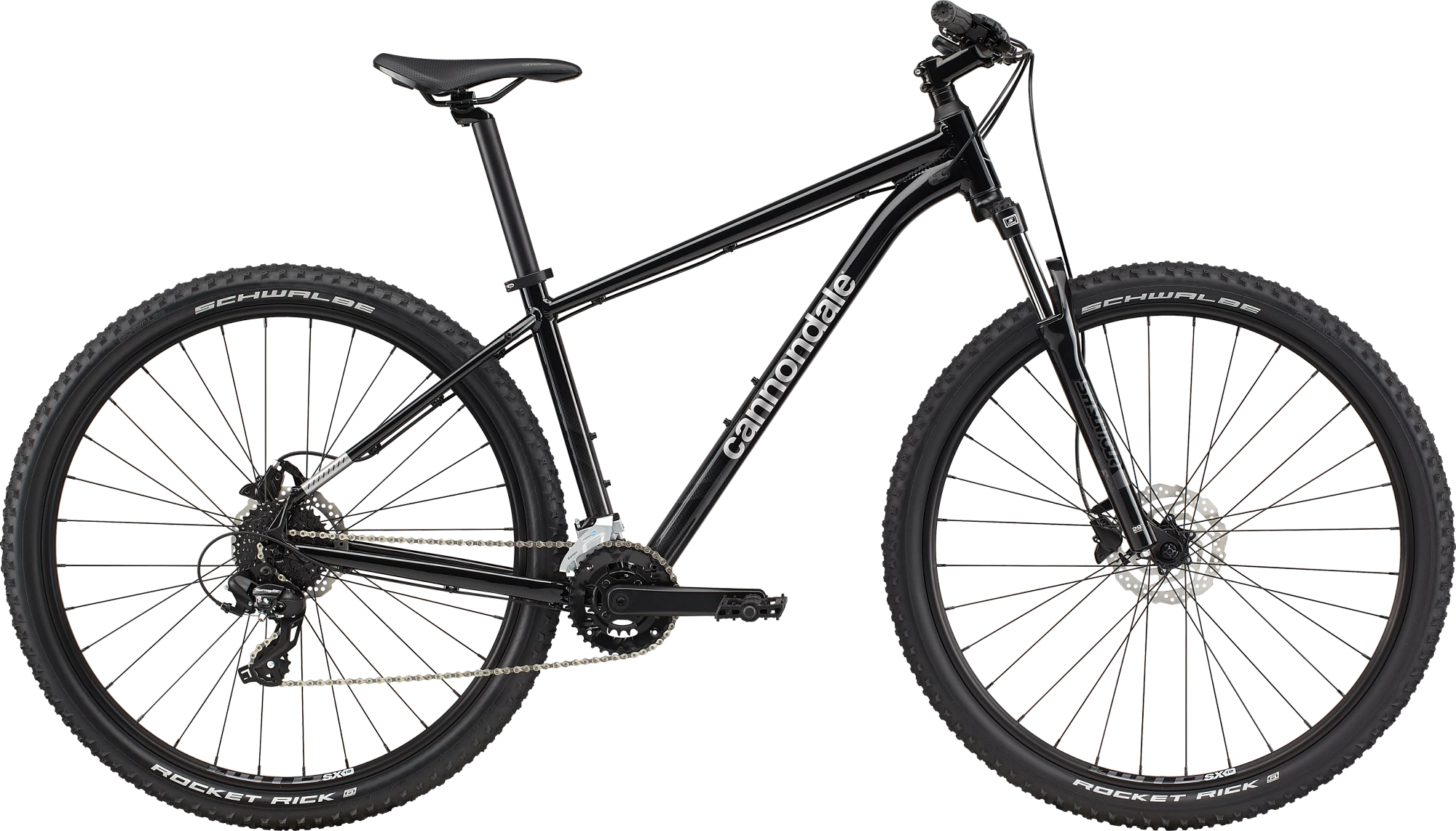 If you're just getting started and expect to spend half your time riding pavement and half on beginner-friendly trails, Cannondale's Trail 8 is the perfect gateway to mountain biking. It features a lightweight aluminum frame, a 3×7 drivetrain a suspension fork and mechanical disc brakes.
Price: $485.00
---
REI Co-op Cycles DRT 1.0
The DRT 1.0 is designed to bridge that gap between youth and adult mountain bikes. It's a great option for young teens as well as small adults. It features a lightweight aluminum frame with a low-slung top tube that gives rider plenty of standover clearance and small diameter 26-inch wheels that are easy to handle. The 3×7 drivetrain has plenty of range and it comes with hydraulic disc brakes for confidence stopping.
Price: $549.00
---
Diamondback Mason 1

The Mason 1 is a hard-charging hardtail designed to plow through the rough stuff. Plus-sized, 27.5×3.0-inch. tires add incredible levels of traction and control without added complexity of and expense of a rear suspension system. UPfront a SR Suntour XCR 34 fork provides 120mm of travel, while Tektro Aries mechanical disc brakes keep your speed under control. The 1×10 Shimano drivetrain makes shifting simple—no pesky front derailleur to fiddle with while you monster-truck over rocks and roots.
Price: $850.00
---
Diamondback Overdrive 2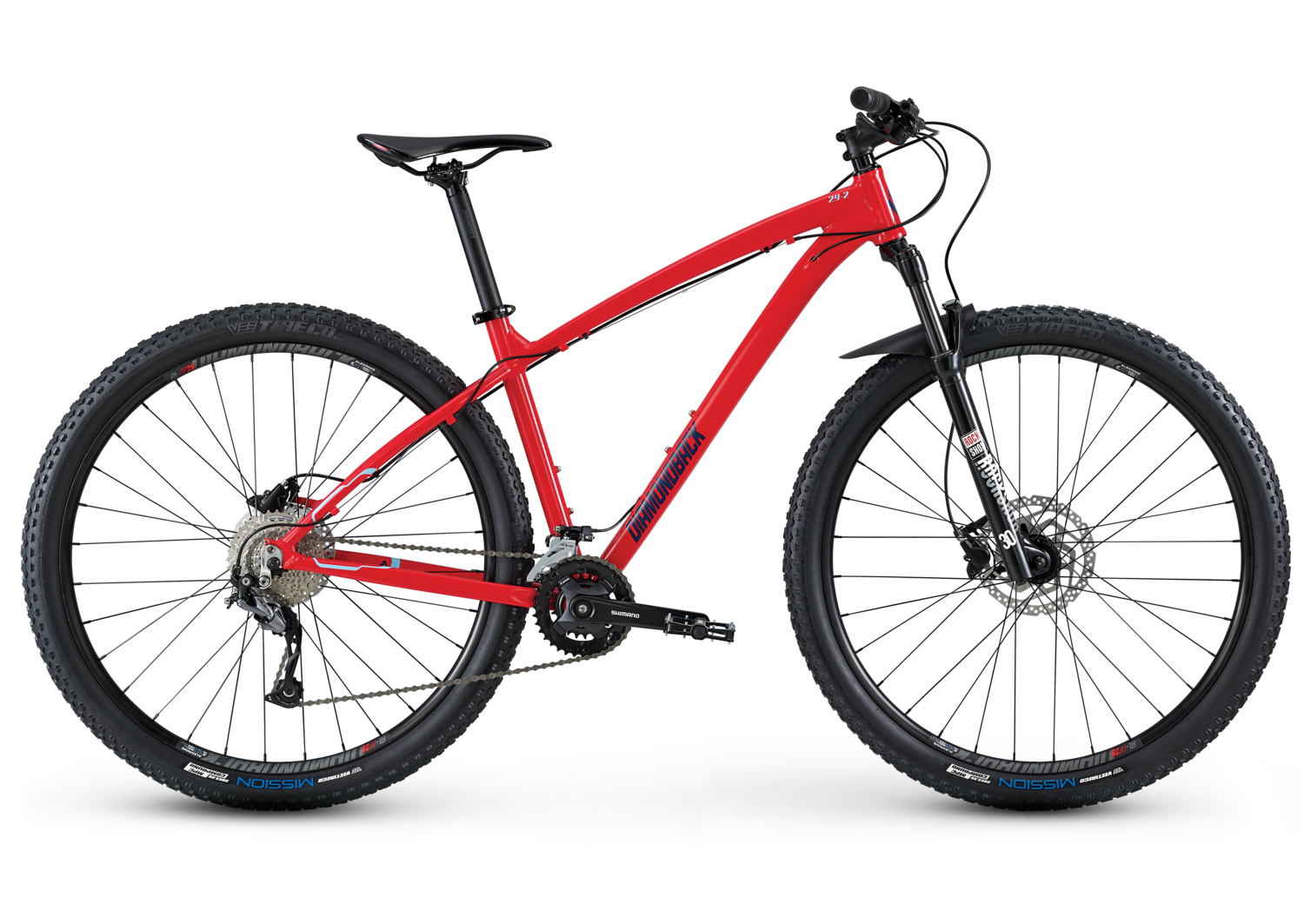 Diamondback describes the Overdrive 2 as the classic 29er hardtail. The Overdrive is build around a strong and light aluminum 29er frame with a confidence-inspiring RockShox FS30 TK Coil Spring fork with 100mm of suspension travel. Shimano hydraulic disc brakes supplies reliable stopping power and a 2×9 Shimano drivetrain provides you with plenty of granny gear for steep climbs. Thanks to its 29er wheels, cleaning tricky rock sections and log-overs is a whole lot less tricky. If you're looking for a great entry-level hardtail for cross-country riding and racing, this is it.
Price: $1,000
---
Mtbr is committed to finding, researching, and recommending the best products. We earn commissions from purchases you make using the retail links in our product reviews. Learn more about how this works.
---