Editor's note: As we welcome a new year, we're taking a moment to look back at the bikes and products that improved our riding experience in 2019. Some products were new for the year, others are tried and true items that are still best-in-class. Here are five products that Berne Broudy fell in love with in 2019.
---
Berne Broudy's 2019 Gear of the Year
I ride daily. I travel to ride, but I also ride a lot in the rooty, rocky, high-humidity Northeast where I live. The most important thing to me when choosing mountain bike gear is to be comfortable whatever the climate. It seems like a low bar for picking the best gear, but I'm female, which means in some categories, I have limited choices. When I'm on my bike, I strive for maximum fun. And I'm a firm believer that if you're thinking about your gear while you're on the bike, you should probably replace it with gear that lets you focus on the trail. My gear needs to stand up to hard use. When I travel, its often to a remote locale. I can't always just pop into a shop for replacement parts; I have to depend on the gear I brought with me. So my favorite things of 2019 are durable, non-restrictive and they let me enjoy ride after ride.
---
Yeti SB140
I've was an early fan of the long-travel 29er revolution. When big-wheeled bikes with progressive geometry hit the market a couple of years ago, I was all in, and proudly proclaimed I'd never own another 27.5-wheel bike. Then, Yeti sent their 27.5" SB140 to test on Vermont singletrack, and from the first ride, I couldn't stop smiling so hard it hurt. Yeti designed this bike with the same longer reach, steeper seat angle, slacker head angle, and shorter fork offset of its newest 29ers. With smaller wheels, instead of the glued to the ground feeling of those hard-charging steeds, this bike rips trails with the joy and enthusiasm of a puppy. It's springy and poppy and easy to move around in the air and on the ground. I'm not a racer—I ride for the pure fun of it. And this bike makes the trails I ride every day even more awesome. No, the SB140 doesn't roll over chunder quite as well as its big brothers, but it also doesn't feel sluggish, ever. And, like all Yetis, the Switch Infinity makes the suspension feel bottomless, but the bike doesn't bob and bounce around on the climb. Starting at $5399
More info: https://www.yeticycles.com/bikes/sb140/
Price: $3,499-$7,399
---
Reebok Pure Move Sports Bra
Sports bras might be the most under-reported piece of technical gear made. But a female rider can be wearing the most wicking base layer or the most technical jersey, and if her bra is a soggy tube or saggy sleeve, whatever other tech she has on top doesn't matter. For women, biking doesn't require as much compression as running, even for the well-endowed. And this bra skirts the fine line of supportive enough without being too tight. The secret sauce is cups made from material similar to D30. So the bra doesn't need to be so tight you can't breathe. When you hit a bump in the road or trail and need support, the cups firm up. And like in kneepads, the change is imperceptible. The Pure Move dries relatively fast, and costs more than I wish it did, but, it's the only sports bra I've worn that I don't want to tear off the second my ride is over, and that I can wear for several rides before I need to wash it.
More info: https://www.reebok.com/us/puremove_bra
Price: $60
---
Velocio Fly Free Ultralight Bib Short
I hate having anything tight around my stomach when I ride, so I wear bibs. But most bibs make having to pee a striptease, they use awkward clips that cause pressure points with a pack on and that are impossible to re-clip without taking your shirt off, or unclipped, the bib becomes a strangulating Lycra noose. These bibs are simply designed with stretchy, not saggy, microfiber shoulder straps that let ladies drop trow in a split second by pulling down the back of the bibs. Ultra-High Gauge Stretch woven compression fabric is also ultralight but opaque, and quick to dry. The chamois is comfortable whether or not you wear these with an overshort, and even after a season of riding, still has some life. The wide leg bands, which are also microfiber, stretch to accommodate muscular thighs, but it's not baggy on slender legs. And the mesh front works great to keep bib straps in place without trapping heat.
More info: https://velocio.cc/collections/ultralight-bib-shorts/products/womens-ultralight-bib-short
Price: $229
---
Poc Tectal Race Spin Helmet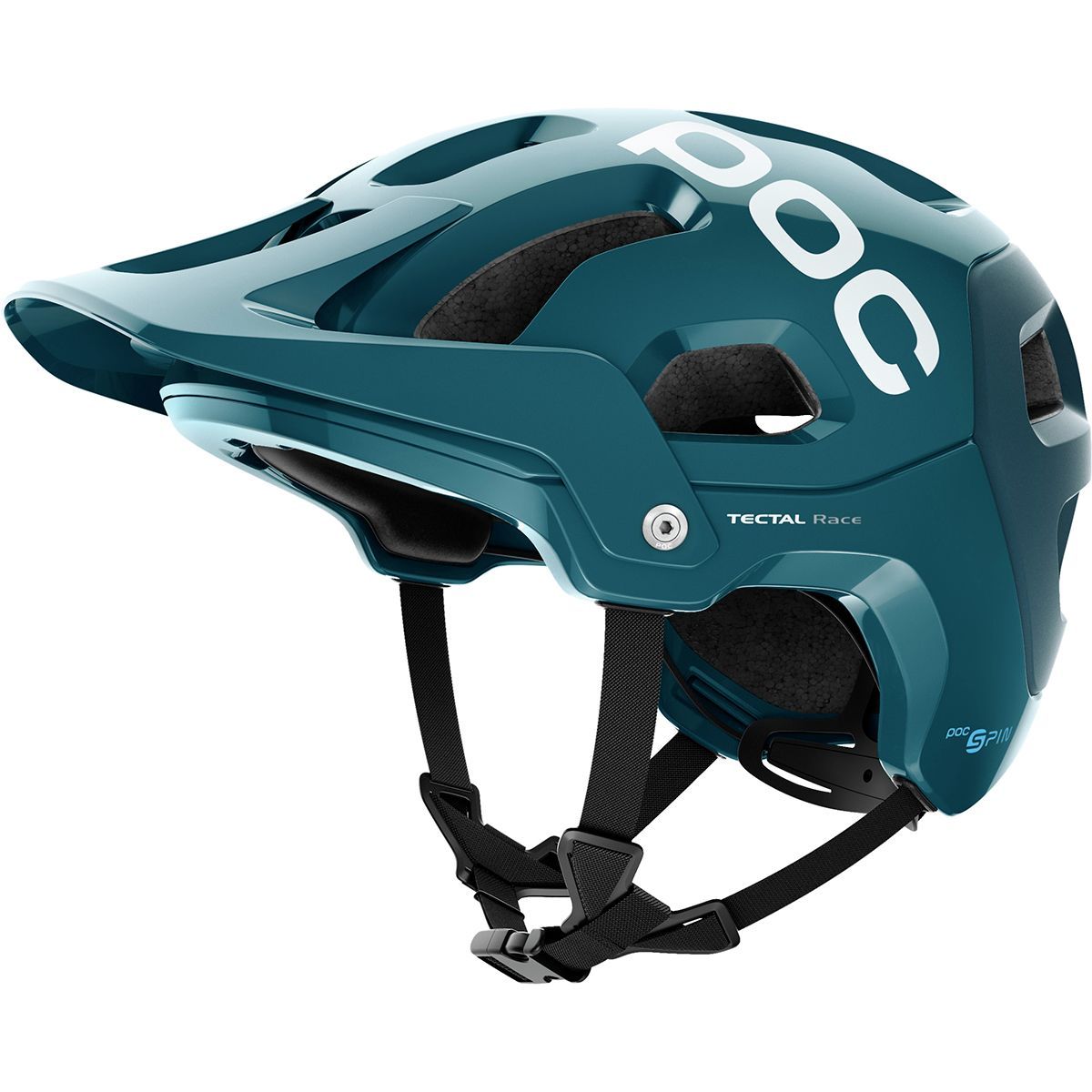 I've never had a concussion biking, and I plan to never have one. Poc's Tectal Race Spin is helping me keep that promise to myself. The helmet has a unibody shell that fully covers the exterior of the EPS helmet body for best in class strength. It's reinforced with an Aramid bridge to keep the pieces together in the case of a crash. Loads of vents keep me cool when riding, so even with this helmets extended back, its not hotter than other helmets. That's not to say I don't get sweaty riding in it. I do, because mountain biking is a sweaty sport. But POC's Spin pads, which are synthetic fabric covered silicone, feel good against my head, even when wet, and they don't compress over time like foam helmets pads. They also don't get tangled in my hair like some MIPS liners. The helmet harness molds comfortably around my head and keeps the helmet from sliding forward or backward when I ride. And the adjustable visor is easy to angle when you're riding with a light or helmet cam.
More info: https://www.pocsports.com/us/products/tectal-race-spin/10511.html
Price: $220
---
Shimano ME7 Shoes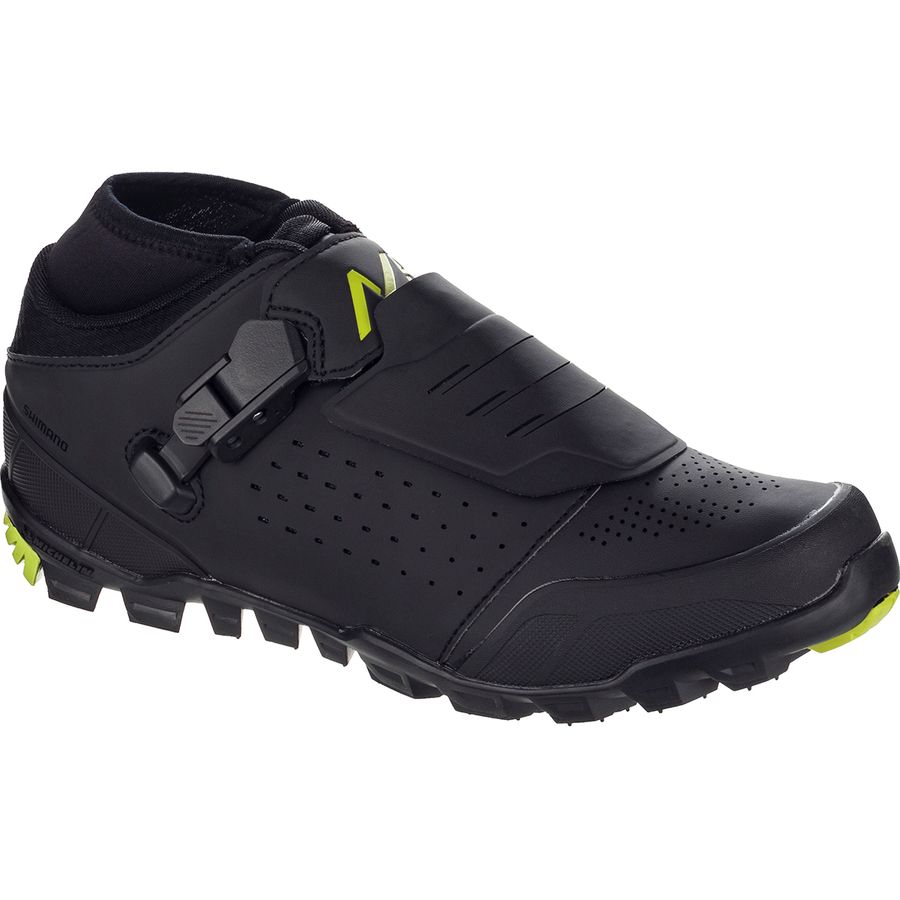 These shoes are my favorites year after year. The last, combined with the set it and forget it cinching lacing that buckles down with a ratchet, fit my wide feet. They don't slip walking. And they last. The ME7 isn't an inflexible carbon race shoe made for XC riding. The hard plastic inner sole flexes laterally in the heel with the foot's natural motion when Enduro or all-mountain riding without losing its ability to translate power from my legs into forward momentum thanks to stiff plastic under the clear. A neoprene cuff keeps stones, leaves, and other trail detritus out, and the padded inner ankle is protective without being restrictive. If I find myself walking a feature or a stretch of trail instead of riding, its' because it's so sketchy I bailed. That's not a place I want to risk losing footing, especially while pushing my expensive mountain bike. The Michelin soles on these bad boys grip better than anything else I've tried, and I've hiked features beyond my pay grade in half a dozen countries in conditions from sand on desert rock to rocks that rode like they were greased.
More info: https://bike.shimano.com/en-EU/product/apparel-accessories/shimano-series-lsg-2019/SH-ME701.html
Price: $200
---