Editor's note: As we welcome a new year, we're taking a moment to look back at the bikes and products that improved our riding experience in 2019. Some products were new for the year, others are tried and true items that are still best-in-class. Here are five products that James Stout fell in love with in 2019.
---
James Stout's 2019 Gear of the Year
My year on the dirt has been fairly polarized in 2019. I rode Leadville on a superlight hardtail, and trained for that on quite a few similarly boring dirt road slogs, I bikepacked in the mountains and desert of Southern California on a 27.5-plus hardtail, and I spent a few days camping and trail riding with a buddy on an e-bike over spring and summer. The longer "down-country" type days I used to enjoy have been absent this year for reasons involving review bikes, event commitments, and gravel bikes getting good enough to do the same thing without having to drive to the trailhead. The gear that stood out to me is mostly the stuff that I reconnected with during my Leadville prep, while the race itself wasn't fun, I did really enjoy being reminded of just how much fun a long day out on a hardtail is. Sure, sending rock gardens and drops is cool, but any time I can switch a long road ride for a few hours pedaling among the pines I am never sad.
---
Ride Fast Racing Wheels Livewire 29
I can't believe how much I've enjoyed these wheels. They're pretty darn light at a hair under 1,500g, but the 30mm internal width and titanium freehub make these wheels anything but flimsy. Ride Fast was about the only wheel company I could find who could build me a wheelset for XTR 12-speed and a lefty fork. I'm glad this unicorn combination introduced me to the small, Southern California company because these cross-country wheels have been a revelation to me. They're light, stiff, strong, and reliable. Ride Fast also includes a lifetime crash replacement plan, tubeless valves, and the opportunity to match these wheels to just about any standard out there thanks to their US Built hubs at no extra cost.
More info: www.ridefastracing.com
---
Trek Supercaliber 9.9
I am still working on a full review of this bike, largely because I don't want to send it back so I am dragging out the process as long as possible. I'm amazed at how confidence-inspiring the geometry and softtail shock are. I am one of the minority of die-hard hardtail XC guys, but this bike really does seem to combine whippet like climbing with wicked-fast descending. Little touches like the simple dual-lockout lever and the ability to easily fit two large bottles in my XL frame make this bike a pleasure for long, fast, and rowdy days on the trail.
More info: www.trekbikes.com
---
Shimano XT 8100
Shimano's new cable-actuated groupset might seem less flashy than SRAM's eTap AXS, but if you value crisp shifting, great ergonomics, and reliable performance over bling, this is the groupset for you. The launch of XTR last year saw a great groupset, and pretty awful delivery to market. XT 8100, by contrast, is readily available, much more affordable, and virtually indiscernible from XTR on the trail. If I was building a bike, this would be my choice of groupset, especially with the two and four-piston brake options it's a great group for anything from XC to enduro.
More info: https://bike.shimano.com/
---
Garmin inReach Mini
A lot of my mountain bike rides tend towards the epic side of the ride continuum, and the peace of mind that this little device gives me is really worth the weight. Sure, it can track your workout, but more importantly, the inReach can find you on a map, call for help if you need it, and send a message to loved ones when you have no signal. Unlike one-way emergency beacons, this device lets you communicate with first responders which dramatically increases the chance of a successful rescue. If I don't need a rescue, it dramatically increases the chance of me sleeping well on bikepacking trips knowing that my wife, cats, and chickens are all safe and happy.
More info: www.garmin.com
---
Wolf Tooth EnCase Bar One Kit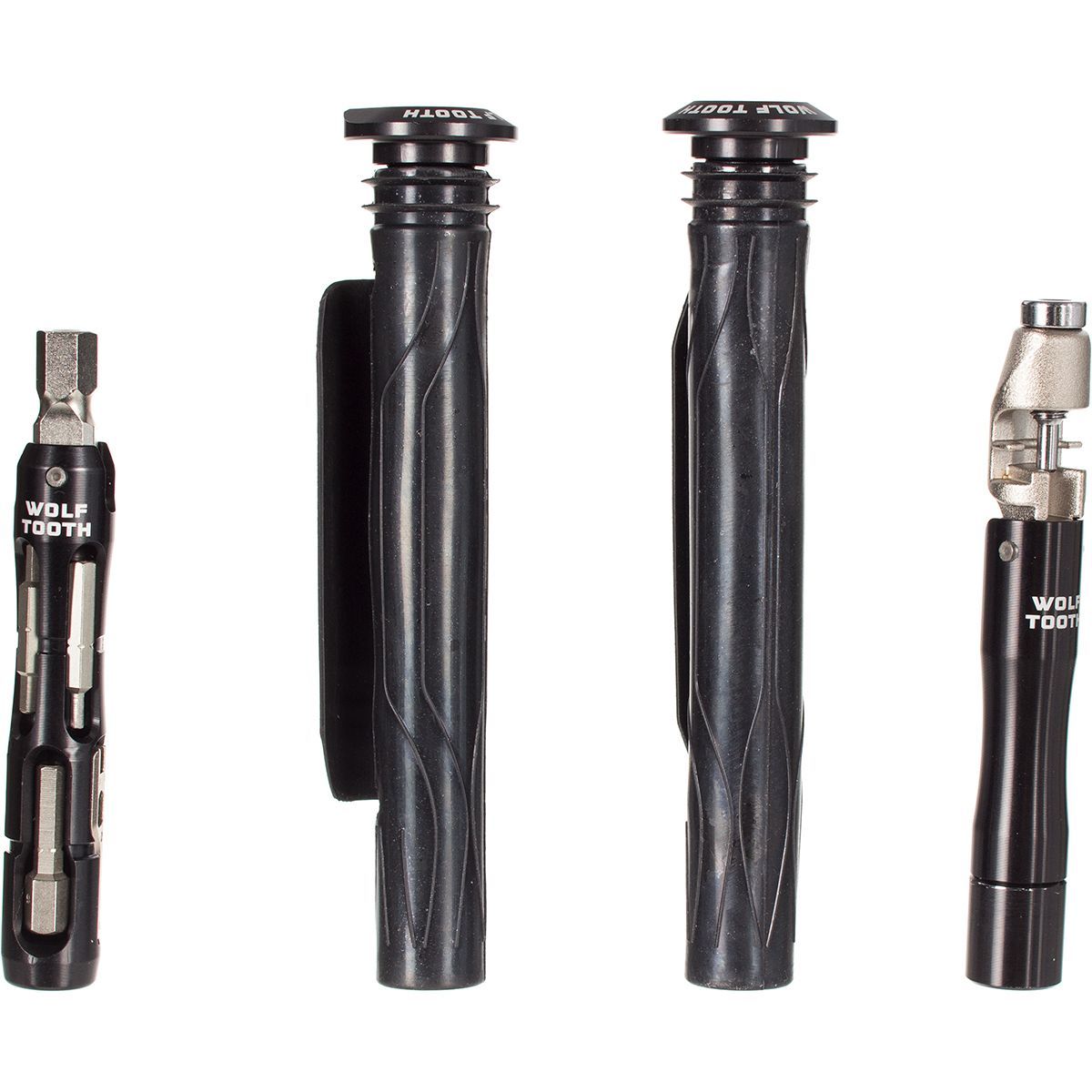 I hate carrying crap on my back when I ride, but with dropper posts and frames full of linkages, it has become almost inevitable. Wolf Tooth recently sent me their Bar Kit One, a system that stores just about every tool you could need in the much-overlooked recess in your handlebars. Yes, brands like Specialized and Trek have come up with innovative storage solutions before, but the quality of Wolf Tooth's bit wrench, and the fact that I can easily swap it between bikes (it works with drop bars as well as flat bars), have made it my companion on every ride.
More info: https://www.wolftoothcomponents.com/products/encase-system-bar-kit-one
---
Was there a piece of gear you loved this year? Let us know in the comments.